Working in Word - How do I...?
I have a few questions in no particular order:
1) What does it mean when there are ?? in the addon and how do I fix this? Screenshot: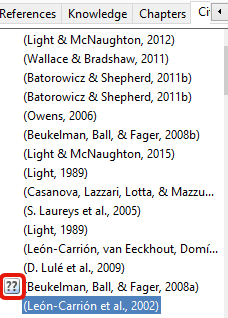 2) Why are some references adding a, b, c, after the year? I thought maybe the references were duplicated in my database and I was citing a different one in different places, but nope, there is only one of that reference in the entire database. I have also refreshed on the Word side, so it's in sync with the database. Screenshots: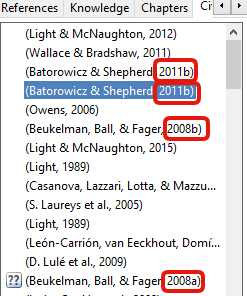 One copy: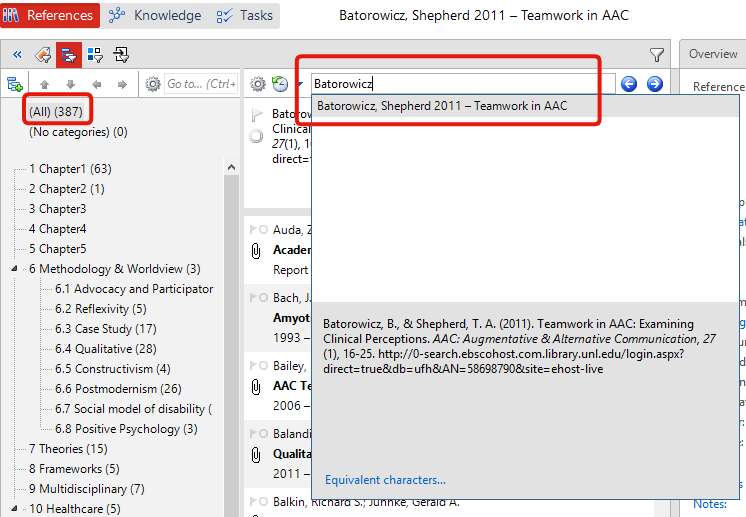 3) Why doesn't Show in Document do anything? I click it, expect to be taken somewhere in the document to the place that citation occurs, or to get some list of where those citations are like the way I do when I use the "find" feature in Word. But nothing happens when I click Show in Document whatsoever.

5) If I need to include a reference of a chapter within a book, the kind that says "in" under references, how do I enter that kind of reference by hand if I can't find the citation anywhere on the itnraweb? I have a few that I need to quote as in something but for the life of me I can't find the citation online of that chapter within the book. I am sure there will be times when I need to add one where there won't even be one online so I might as well learn how to do it.
6) Is there any way to copy/paste a reference from clipboard without trying to go the route of importing it, because the whole "Retrieve references by identifier" just doesn't seem to work for me. I will be signed into my library's EBSCO host and copying the APA citation that comes up under "cite" and when I try the retrieve references by identifier and paste it in that text box and click on the right button and add, nothing happens. I know it's correct and I would like to still add it to the database, but I don't really want to enter every single field by hand. Is there any way for it to like, get Citavi to copy them to the right fields by pasting the citation somewhere?
7) Why is it showing ... in refereces instead of name? Screenshot:

Maybe it's related to this: https://help.citavi.com/en/topic/apa-6th-names? I'm using APA and it's the sixth hame. Here is another one:

8) How do I make this formatting for the references "stick?" Every time I come back to Word it resets back to only three spaces of indentation from the left and I can't figure out how to keep ti to 5 for ther references and how to make that defaul for all Word documents: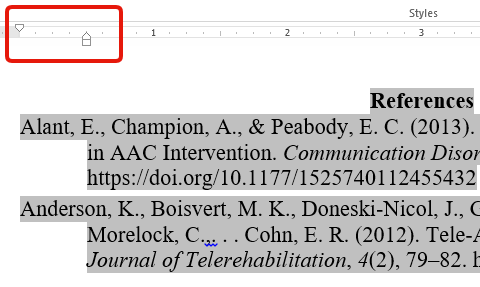 9) How do I make changes "stick" that I made in Word to citations and references so I don't have to make them again again, like if I takea way the a or b from the end of the citation, and delete the duplicate reference? How do I make these save permanently?
10) How do I make in-text citations that include the Name (year) and that stay this way without reverting to (Name, year)?
Thanks for any help!!
Violeta